President's Corner | 2021
Doing what we can for a society replete with happiness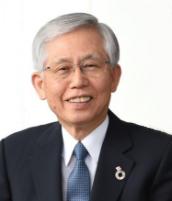 Mr. Osamu Ishitobi
President, SCEJ
 I am honored to be appointed President of the Society of Chemical Engineers of Japan for the year 2021 and humbly follow in the footsteps of former President Toshinori Sekido. Espousing the SCEJ spirit of contributing to society, I hope to help facilitate the Society as an impetus for members to make advancements in a dramatically changing environment.
 In recent past, the emergence of new global issues is a seemingly annual occurrence. Year after year, storms and flooding, heatwaves, and devastating fires, as well as other disasters, have steadily increased in capacity and occurrence; and as the world tackled global crises, it was suddenly swept by the unprecedented and novel coronavirus pandemic. These calamities are said to be caused, in part, by the human destruction of nature. Great numbers of people around the world have been afflicted, a multitude of deaths have resulted, and vaccines alone are our one ray of hope. The earth is sick, and we are approaching tipping points all around. Energy, resources, and even nature, once thought to be limitless, are finite - living as one pleases has become unacceptable. We must adopt more conscientious and sustainable lifestyles.
 Since the birth of the Society, chemical engineering has greatly expanded into an interdisciplinary field as it keeps abreast of ceaseless societal changes. Exposed to a multitude of information with every change encountered, the versatile field of chemical engineering has pursued technological innovation vis-à-vis new generation technology. Now, as society is thrust into a dire state by climate change, chemical engineering is in a position to support and contribute to solutions. However, despite these circumstances, I hear that chemical engineering has become less popular among young people. In order for engineering to continue demonstrating its comprehensive technology capabilities and present itself as an appealing field, it must be the kind of engineering where talent is amassed, and technological innovations are pursued and linked to contributions to society. I hope that at the SCEJ, we collect the wisdom of as many people as possible and, together, cultivate a dependable path toward achievement.
 Rokusuke Ei said that "wisdom creates culture, and knowledge supports civilization." Indeed, I wish to sustain the earth with knowledge and wisdom. Relegating chemical engineering and the Society to the respective roles of knowledge that supports civilization and wisdom that creates culture, and envisioning a civilized culture for a society in which we can feel "sufficiency" as stated in the Sapporo Declaration, ideally we can contribute to economic and industrial progression and realize a society in which everyone can live happy and fulfilling lives.
 As you know, today, one of the milestones for mankind is the attainment of the Sustainable Development Goals (SDGs), all of which are of crucial importance and require urgent action. Climate change, in particular, is an area where the versatility of chemical engineering can effectuate solutions to multifarious challenges, such as the securement of massive amounts of renewable energy domestically and abroad, low-cost production technology for CO2-free hydrogen and its carriers, technology for its transfer and utilization, as well as rebalancing the carbon cycle, implementing carbon fixation within society and the decarbonization of heating. Also of importance are such fields as power-loss reduction technologies, biotechnology, and membrane separation. Let us promote competitive innovation to achieve these goals.
 Meanwhile, industry is steering through the waves of change in today's society - not only must products be made, it is imperative that value be created for society. We likewise have the responsibility of responding to this trend by developing human resources that will rejuvenate and advance science and technology, and by mobilizing human capital in industry and academia. Even as chemical engineering expanded into interdisciplinary fields in the past, the focus has remained on fostering human resource development that meets industry's demand for greater emphasis on basic competencies such as unit operation. Furthermore, greater expectations are being placed on the fostering of human resources that can work flexibly on new strategies for value creation in response to the recent societal changes that industry is facing, and it is my hope that industry and academia collaborate on its development. Naturally, we will be assiduous with the foundations of industry such as safety, security, and facility maintenance and, employing a new approach that fully implements DX technology, will develop human resources that can work to enhance these essential elements.
 Incidentally, it goes without saying that it is the vigorous research activities in academia and deep cultivation of each specialized field that lead to industrial growth, and likewise enhance the value of chemical engineering and form the basis for the Society. In addition, I believe that we will arrive at innovations through open symposia and other such forums centered on dialogue with people active around the world, where industry, academia, and government can carry out continuous interdisciplinary collaboration.
 Attuned to the ever-expanding field of chemical engineering, 20 years ago the Society introduced a subcommittee system to support the promotion of systematic research. Since then, due in part to recent social changes and technological innovations, in addition to members furthering their research and engaging in educational activities, they are working in various units of the Society to address a multitude of issues. These efforts have yielded opportunities for innovation, but I am concerned that they overburdened and at their limits on a day-to-day basis. When it comes to the centripetal force of chemical engineering, contribution to society and research results are indeed like two wheels of a cart. The SCEJ would like to reexamine each of our activities from this perspective and have everyone consider what can be done to improve efficaciousness.
 This year, the creation of Vision 2036 will begin in earnest. As we enter an era of many changes, I look forward to seeing the visions of a diverse group of young people who will lead the future of chemical engineering. Their independent spirit will surely prove to be a breath of fresh air and lead us down the correct path.
"Let's start doing what we can. By moving forward, we will see what lies ahead."
---