President's Corner | 2020
Driving Social Transformation by Chemical Engineering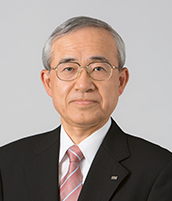 Mr. Toshinori Sekido
President, SCEJ
 Following the departure of Professor Tadafumi Adschiri, I was appointed Chairman of The Society of Chemical Engineers Japan for the year 2020. I am from Heavy Industries, manufacturing such as boilers, plant construction, bridges, industrial machinery, jet engines. It is through my work, and the increase in opportunities to work with chemical engineers in recent years, that I was appointed on this occasion. I bring with me the perspectives of a businessperson and engineer, and hope to utilize them in my contribution to the SCEJ.
 This past January, the world's top leaders and professors in power, oil & gas, and (aircraft) propulsion technology gathered at a university in Switzerland to discuss the "Future" in a forum where I, too, spoke and participated in discussions. There, despite being aware of the European venue having some bearing, I was surprised to find decarbonization and hydrogen the dominating topics. Digital transformation, too, emerged as a given and was postulated in talks. Throughout February (prior to this publication), the spread of the Corona virus continued to greatly impact our daily lives and social activities. Actively striving to fulfill our social responsibilities, the SCEJ promptly made the decision to cancel the 85th Annual Meeting and the 22nd Student Meeting scheduled for March. As we are implementing measures to combat the spread of the virus, society as a whole is in seeming need of a breakthrough.
 It appears that Science and Technology, originally utilized to facilitate people's happiness and the wellbeing of society, is imposing environments to which humans and society must now adapt. Global warming is one said result of the unrestrained use of science and technology, and today we face the enormously difficult task of dealing with its consequences. We cannot continue on in this way. The earth, the natural ecosystem, and society are all suffering. With the burgeoning belief that now is the time to conceptualize the future of society, and science and technology (chemical engineering), the SCEJ proposed the concept of sufficiency in our Sapporo Declaration at the APCChE last year. It defined the SCEJ's resolution to ascertain what is essential for wholesome quality society and to engage in the activities towards social transformation.
 Priority measures for the SCEJ this year are to continue its pursuits for Vision 2023 and, taking into account the new enterprises mentioned above, to proffer the three perspectives below.
1) Society and the SCEJ
This is an age when it is meaningless to implement science and technology that does not incite social innovation. We must look at the overall social system, and reform it by joining hands across the boundaries of the SCEJ.
1-1) Envision an overall system, and promote societal implementation
1-2) Contribute to society (e.g. SDGs)
1-3) Enhance awareness, dissemination to society
2) Human resources development, Human resources utilization
We must construct the foundation for fostering and practicing new chemical engineering as demanded by society
2-1) Work towards issuing and effectively utilizing new "Chemical Engineering" textbooks
2-2) Enhance activities and mechanisms that garner interest in chemistry, and increase exposure across generations
2-3) Promote diversity
3) Innovation and society
True innovation is needed to achieve a CO2-free society, Society5.0 (Society of Imagination and Creativity with Digital Transformation), and other such endeavors. A Life Cycle Assessment perspective, too, is imperative.
3-1) Contribution of chemical engineering to industrial reformation associated with such as the full-scale utilization of renewable energy
3-2) Contribution towards the introduction of AI and DX into chemical product design, manufacturing, and plants.
As to how we will implement the above priority measures, for example, in order to crystalize the measures proposed in Vision 2023, or realize a hydrogen society and the decarbonization of various industries (chemical, steel, cement, etc.), as well as examine social and industrial systems for greater recycling, the SCEJ will aim to organize independent industry-academia work teams, explore ideas and systems for solving problems, and advance activities that identify break-through technologies, which are key in attaining the above. Subsequent and more specific (exemplary) objectives would include widening the circle of activities to include other academic societies, establishing industry-government-academia consortiums as needed, and linking those to implementation while obtaining the government subsidies. Said activities will be a step towards Social Transformation and will inevitably foster advancement towards sufficiency.
 The youth and students of today are socially aware and, equipped with a sense for digital and simulation (game) technology, they contemplate what and how they can contribute. They are prepared for challenges, and practice self-improvement. If chemical engineering acts as the epicenter for creating a new society, the talented youths of future generations will increasingly participate in the activities of the SCEJ. We urge everyone to engage in various dialogues and join us in our efforts.
---